THE LIFE AND WORK OF KARIN AND WALTER BLÜCHERT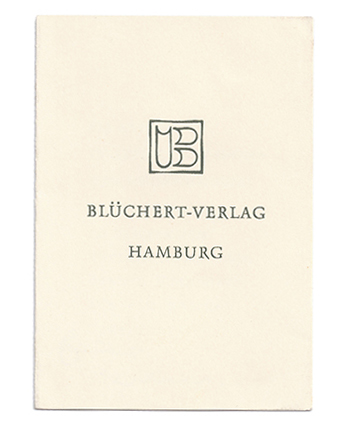 "But where there is danger, salvation also grows." - Friedrich Hölderlin
Anyone who, like Walter Blüchert, grew up in times of severe hardship knows what it's like when the most fundamental things in life are scarce. When times are hard, however, it is all the more apparent how much strength an individual can impart when they – to borrow from Hölderlin – offer a helping hand to a fellow human in times of danger.

Walter Blüchert was born in Berlin shortly after the end of the First World War and was badly injured in the Second World War. During this period, he encountered many people whose tremendous dedication and tireless commitment helped new life rise from the rubble. These encounters not only influenced his career as a successful publisher – they also gave him confidence in tough times and spurred him on to 'keep giving something back from my own prosperity' as a benefactor.

In ambitious post-war Germany, Walter Blüchert – a publishing clerk – found a job at the Weser Kurier newspaper in Bremen. The paper's publisher, Hans Hackmack, had obtained a publishing licence from the military government of the American occupation zone in 1945.

While working in Bremen, his interest in publishing (which he had discovered before the war) grew further, causing him to establish the Blüchert-Verlag publishing house in Stuttgart in 1950. In the same year, he acquired the German rights to publish Walt Disney non-comic publications, with some 130 Disney titles appearing by 1962. From 1953 onwards, Disney books were published as licensed editions in the Bertelsmann-Lesering (Bertelsmann book sales club). Walter Blüchert also secured the rights to the German first editions of the global bestsellers The Famous Five and The Secret Seven by Enid Blyton, one of the world's most famous British children's authors. Even Loriot was amongst the first crop of authors and entrusted the publisher with the story of Reinhold das Nashorn (Reinhold the Rhino).
In 1957, Walter Blüchert founded a company called Buch und Bild, which handled the commercial usage of rights and the brokering of copyrights; in the 1960s, he settled in Switzerland and became a financial broker, preparing high-level company transactions in the German media landscape.

He found personal happiness with Karin Damm, whom he married in Hamburg in 1959. Books also played a crucial role in this relationship – as a young proofreader, Karin Damm had applied to the Blüchert-Verlag publishing house (which was now based in Hamburg), where she began her career by correcting manuscripts. When their daughter Christine was born, Karin Blüchert withdrew from publishing and would later concentrate on charitable projects.

Despite all their business success – Walter Blüchert sold his company in 1968 – Walter and Karin Blüchert never forgot the hard times during and after the war. Walter Blüchert would frequently state that he saw it as an obligation to assist those who need a helping hand.

Guided by his Christian values, which were so important to him, his humility in respect of what he achieved and his gratitude for his destiny and towards the people who helped shape his life, he decided at an early stage to put his wealth into a foundation. Walter Blüchert found an ally in Liechtenstein-based trustee Dr Walter Keicher, who – in the 1980s – helped pave the way for a foundation whose purpose is to provide direct assistance to people in need.

Sitting on the Board of the Liechtenstein-based parent foundation VISELLA, Christine Blüchert manages and safeguards the philanthropic legacy of her father.

Granddaughter Magdalena Blüchert leads the Karin und Walter Blüchert Gedächtnisstiftung (Karin and Walter Blüchert Memorial Foundation) in Hamburg and strives to ensure the lasting implementation of its founder's wishes.